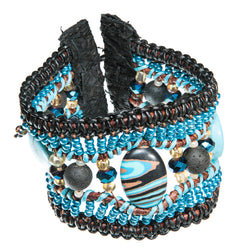 Tales of Travel
! Sold ! - Black wide leather bracelet with lava stone and blue sea sediment stone
! Sold !
Black wide leather bracelet with lava stone and blue sea sediment stone
 This bracelet is 6,5" - 16,3cm
About Tales of Travel design
All bracelets made by Tales of Travel are hand made by the artist Guðný Björk . This makes every bracelet a unique elegant piece of accessory to wear and own. Even though it is possible to order in different sizes, the process makes each of the cuffs so special that they are similar but never exactly the same.
Guðný Likes to work with different material she buy's from locals in countries she travels to. The design is influenced by traveling the world and therefore she chose the name Tales of Travel. These are here tales from travel time. These jewlry are sometimes elegant and at other times hip or hobo. Different style for different occasions and the variety of people and its preferences.
When Guðný is not hiking a danger zone in Mexico, climbing a mountain, cross country traveling in Icleand, driving the world in a mobile home or paddling a kayak down a river in Guatemala, she sits down to design a jewelry and there she draws from here artistic studies and travel experience and works with jewelry like an impressionist would work with a painting or a rapper with a poetry flow. Therefore you newer now what she will do next and what she will create. Like a river it goes with the flow.  Here jewelry is not mass produced as she likes to make them here self and the likely hood of you meeting a person with the same kind of jewelry is therefor slim. This makes here jewelry extra unique.
Here motto is Dare to be different and her Tales of Travel truly show that.